Enterprise Measurement Engine
What is a Quality Measure?
The National Quality Forum defines a Measure as a standard, a basis for comparison, and a reference point against which other things can be evaluated. In the healthcare industry we have many types of Measures.
Structural Measures: Used to assess healthcare infrastructure. E.g. the percentage of physicians in a practice that have a particular medical software.
Process Measures: Used to assess steps that should be followed to provide good care. E.g. the percentage of patients with diabetes who had an annual eye exam.
Outcome Measures: Used to assess the results of healthcare experienced by patients. E.g. the percentage of patients who are maintaining their blood pressure within a healthy range post treatment
Quality Measures in the healthcare industry help us:
Track quality of cared provided
Implement safety and consistency in care
Adopt industry best practices
Track performance targets of different individuals and departments
Get funding from Pay-For-Performance (P4P) programs sponsored by organizations such as Centers for Medicare and Medicaid Services (CMS) or commercial insurance payers.
The Office of Health Informatics and Analytics (OHIA) offers consultation services to UCLA Health groups that would like to build Enterprise Measures. We provide guidelines and best practices to create Enterprise Measure specific to your needs, using UCLA Health's standard data elements. We coach you throughout the Measure creation process:  define, code, maintain, update and share Enterprise Measures across UCLA.
Benefits of using our services:
Consistent and standard measure definitions
Shorter development and deployment cycles
Support in operationalization of Measures after deployment
Standard and reusable visualizations
Transparency and accountability amongst people involved in the Measure lifecycle process
Ability to address multiple Measure needs and use cases via a common framework
These are some of the Measures created using OHIA's framework, process and coaching:
Among patients with dementia, the percentage of Referrals to Medical Home Visit Program
Among patients with diabetes who had an A1C in the past year, the percentage with most recent A1c in the prior year > 9
Among patients with CKD, the percentage with a creatinine lab test resulted in the prior 12 months
Among patients with CKD, the percentage with a potassium lab test resulted in the prior 12 months
The percentage of adults 18–64 years of age with a diagnosis of acute bronchitis who were not dispensed an antibiotic prescription.
The percentage of women 50–74 years of age who had a mammogram to screen for breast cancer. The eligible population starts at 52 years of age to account for the look-back period.
For members 18 years and older, the rate per 1,000 receiving prescription opioids for ≥15 days during the measurement year at a high dosage (average morphine equivalent dose [MED] >120 mg).
The percentage of patients ages 40–75 years who were dispensed a medication for diabetes that receive a statin medication.
The percentage of members 40–75 years of age during the measurement year with diabetes who do not have clinical atherosclerotic cardiovascular disease (ASCVD) who met the following criteria: Received Statin Therapy. Members who were dispensed at least one statin medication of any intensity during the measurement year
Among enrolled and waitlisted pediatric medical home patients, the number of domestic all-cause 30-day readmissions.
* Alert: We have renamed Centers of Excellence (CoE) to Distributed Analytics Team (DAT)
The image below is a visual representation of a measure, seen as a Tableau dashboard.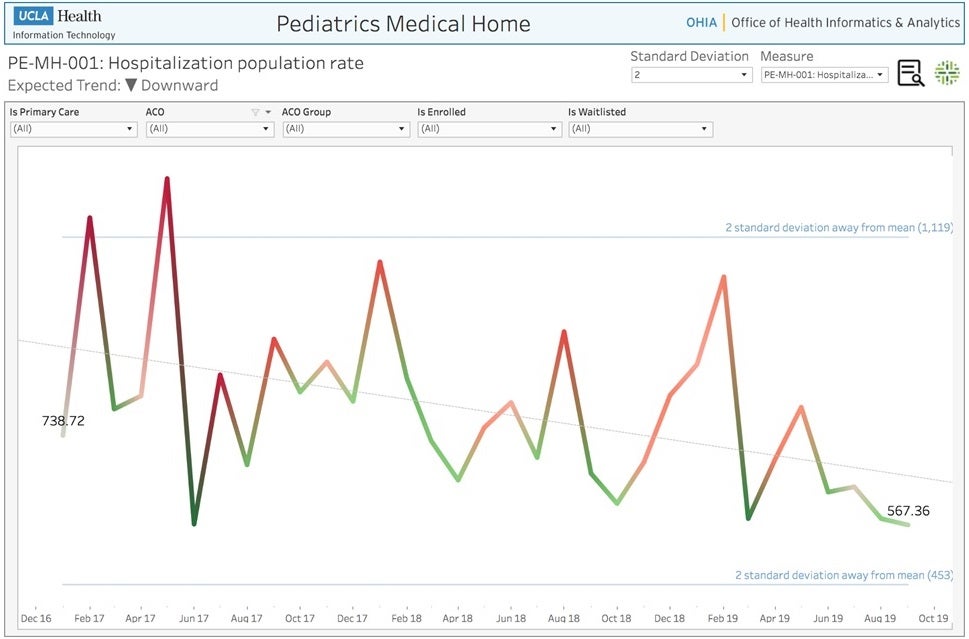 Would you like us to assist you with creating Enterprise Measures?
Please follow these steps to create a Measure
Submit a request to the Self Service Analytics (SSA) Team at SelfServiceAnalytics@mednet.ucla.edu
Meet with SSA team to review the Measure requirements
Submit a request for a new Project to develop the Measure(s)
SSA will advise you on next steps
Resources:
Please refer to these sources for more details about Enterprise Measures
Support:
For any questions relating to the request process or issues, please contact SelfServiceAnalytics@mednet.ucla.edu