Guide for UCLA Health iPhone
This is your guide on how to log into and setup your UCLA Health iPhone and apps.
Setup is required by the user after receiving a UCLA Health iPhone. 
This iPhone will serve as your UCLA Health Pager using Spok Mobile Paging App.  Spok Mobile will only be activated on your UCLA Health iPhone.
This is NOT your own personal device, it is a UCLA owned and managed device that is issued to you during your clinical appointment at UCLA Health.
UCLA Health iPhones and phone numbers are UCLA property. We highly recommend you store your personal items and information on your personal device(s). UCLA Health IT is not responsible for personal items stored on UCLA Health phones. 
For information regarding Nursing or Shared iPhones, please go to Shared iPhone website.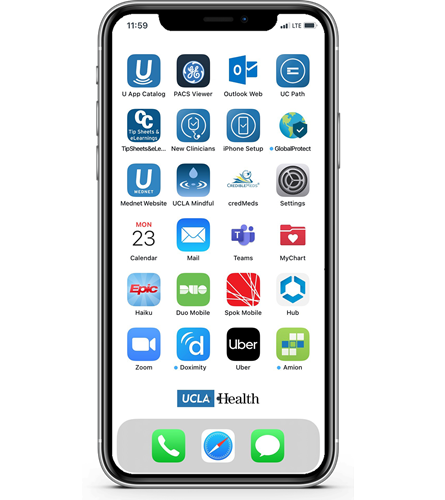 Alert
Note: We are beginning to decommission physical pagers and transition to Spok Mobile Paging Application. To learn more about physical pager replacement project, view Unified Communications page.
Learn more about what is included with UCLA Health iPhone and the permissions available:
If you only watch a specific section of the video, jump to the section by clicking one of the links below.
2. Setup Apple ID and Spok Mobile Paging
If you do not have an Apple ID or do not want to use your personal Apple ID, you may create a new Apple ID. Apple IDs can be created without credit card information.
Apple ID is required to purchase apps on Apple App Store and connect to iCloud. 
If you would like to create a new Apple ID for your Resident iPhone, go to: 
How to create a new Apple ID
Spok Mobile™ is a critical messaging and alerting application used at UCLA Health. The Spok Mobile Paging app will be installed on your iPhone. 
Learn more in how to setup and use Spok Mobile Paging App
Note: Spok Mobile can only be activated on your UCLA Health iPhone. You must request to transfer your existing Spok account to your new UCLA Health iPhone before Spok is deactivated on your personal device.
U App Catalog
A convenient way to access and download a repository of mobile apps used at UCLA.  The U App catalog will be available to you once you enroll your mobile device in Intelligent Hub.